A complete view of Hampi Utsav in Karnataka
Le 14 juin 2018
.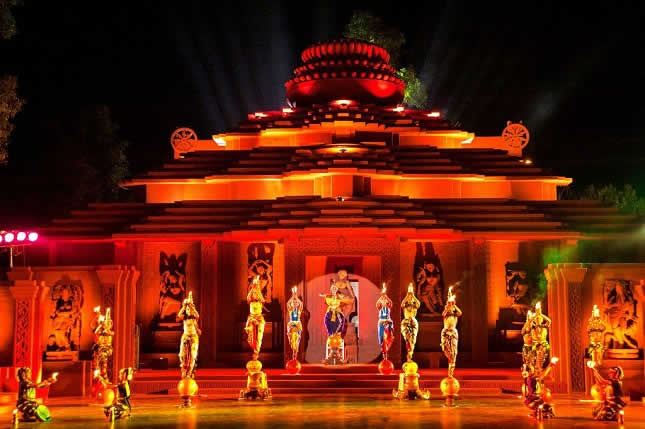 Hampi Utsav is a 3-day long carnival to memorize our culture and heritage.
Hampi Utsav is a 3-day long carnival to memorize our culture and heritage. Once Hampi was the capital of Vijayanagar Kingdom which is one of the largest kingdoms in India. Hampi Utsav is celebrated in a grand manner with full of lights, parades, cultural events, puppet shows etc. This ruining city will glow with full of lights at the festival time.
Hampi Utsav will be taken place at Hampi village near Vijayanagar in Karnataka. The tourism of Karnataka will arrange all facilities to the tourists. Now we will drive to the importance and attractions of Hampi Utsav.
Major attractions of Hampi Utsav:
Hampi Utsav is center to many attractions like sound and light show, parades, traditional and cultural shows, sports etc.
Light and Sound show:
Light and Sound is the highlight of Hampi Utsav. An attraction of this festival is specific lighting effect of Hampi ruins monuments along the banks of Tungabhadra River. The Light and Sound show is the best experience of enjoying the hues of river sparkling to the effect of light.
Parade of elephants and horses:
It is the interesting part of Hampi Festival. During the festival elephants and horses are beautifully decorated then they will take part in the festival. They will move with sounds of trumpets and pipes. Through this parade, we can know how will be the parades of Kings. Parade of elephants and horses is the highlight of the festival to show the glory of Vijayanagar Kingdom.
Traditional cultural and art shows:
Traditions of Hampi city at the time of Vijayanagar Kingdom can be learned at the festival. Many traditional and cultural shows will be taking part in the festival like puppet shows, music shows, dances, processions, crackers shows, drama etc. It will be the best time to spend in Hampi Utsav just by simply enjoying the shows.
Participants of all cultural shows will be invited from all over the country. This will be a great platform for many artists to show their talent. Major attractions of the festival are Indian classical dancers and Carnatic vocalists. Many shows will entertain people throughout the 3 days.
Folk dance and songs:
The main highlight of Hampi Utsav in traditional shows is Janapada Kalavahini means folk dances and songs. A large number of folk artists will come from all over the country to showcase their talents. Folk performances are another highlight of Hampi Utsav.
Raja Marg:
Raja Marg is a path leading to the temple of Virupaksha. This path will be beautifully decorated in a colorful mode you will remember those days of welcoming king. The decorations made on the road are very attractive and this place shouldn't be missed.
Exhibition and sports:
To add more glory to the festival they arranged some exhibitions and sports. In the festival, there will be an exhibition of books, arts and crafts, flowers, paintings etc. Never miss out to taste the food at the festival.
Even during the festival some sports are conducting like table tennis, volleyball, stone lifting, tug of war, kabaddi, swimming, and mud field race etc. This will give a kick ass to youngsters to enjoy the festival in full beat up.
Accommodation:
To enjoy all the three-day long carnival you have to stay. For this, some resorts and hotels are recommended to stay. The stay options are Clarks Inn Hampi, Hampi's Boulders, Heritage Resort Hampi, Kishkinda Heritage Resort.
How to reach:
By Air, you can reach Bellary nearby airport to Hampi.

By Rail means you have to reach Hospet nearby railway station of 13kms. You can also take a trip with luxury train.

By Road, means you can catch up regular KSRTC buses to reach Hampi.
When you visit Hampi during the festival never miss to attend because it is the most experience able festival to know more about the heritage and royalty of Vijayanagar Kingdom.