Top 5 luxury hotels in Paris
Le 14 mars 2016
.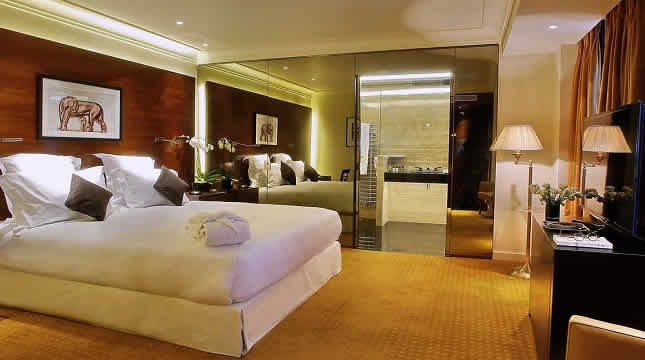 Paris is a city of love among the world's most visited tourism destinations. Do you want to travel differently? There are lots of places which make you dream there. Staying in the most luxurious hotels allow you to discover and appreciate the city. So, here's the Top 5 list of the luxury hotels in Paris and their attractions nearby.
Raphael Hotel
This is a 5-star hotel that can offer luxury accommodation located within a 2-minute walk from the Champs-Elysees and the Arc de Triomphe. You will be seduced by its comfort, luxury and discretion. In addition, from this hotel, it provides panoramic views of the beautiful capital city. Nearby this hotel, it is very easy to reach the Loose Park that is situated at 0.3 miles from The Raphael Hotel.
Hotel Royal Monceau Raffles
This hotel is situated in Paris's 8th district at 500 m from the Champs Elysees and just a few minutes from the Etoile. You will get what you can expect from a top luxury hotel Parisian style. This Parisian chic and luxury hotel offers a cinema room, starred restaurants, very nice spa with a great swimming pool, and a library of contemporary art books. You can go shopping and visit major attractions nearby.
Hotel Montaigne
This is a prestigious lodging that is located a 7-minute walk from the Bateaux-Mouches riverboat cruises and 50 meters away from Avenue des Champs-Elysées and Napoleon's Tomb. Want a dream location? a luxury hotel? This hotel corresponds perfectly to your expectations as it offers elegant rooms and furnished balconies. To this luxury hotel, you will get spectacular views of the Eiffel Tower. Besides, it's possible to explore the city by renting a luxury car.
Le Meurice Hotel
It is one of the finest hotels in Paris located opposite the Tuileries Gardens. It is a perfect destination for chic travellers who prefer to be in romance and go shopping. This hotel consists of seven floors and offers decorated guestrooms with an individual style that favours Louis XVI. Furthermore, there is a bar and a spa where you can take advantage of the Hammam and relax. Also, you can have a panoramic view over the neighbouring Tuileries Garden, or make a tour of the city even visit the River Seine Cruise.
Hotel de Crillon
This is located in the middle of the city at the foot of the Champs-Elysées and also situated at a five-minute walk from Place De La Concorde. It is one of the most beautiful of Paris hotels that provides a convenient shuttle service. If you want a great place with a great location and good food, this hotel is the right one. It has 103 guest rooms which offer a gym, meeting rooms and many spaces to relax. On the other hand, if you want to visit other attractions, it is possible to rent a car.