Rent a Mercedes in Nice - GP Luxury Car TOP 3
Le 23 avril 2018
.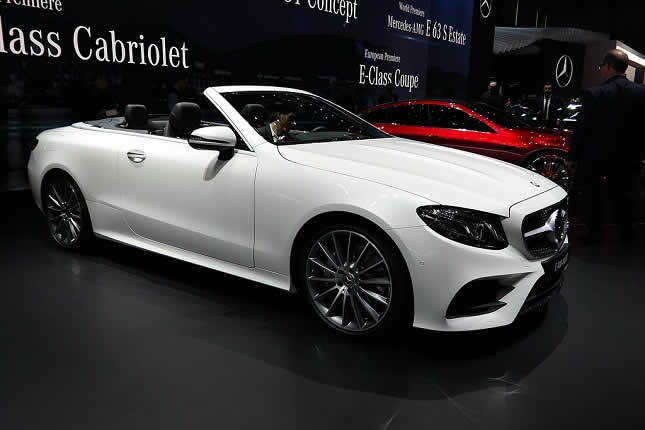 Full of activities for escapism and enjoyment, Nice should be at the top of your must – go destination on holidays.
No need to take your car, just browse at GP luxury car selection and hire a Mercedes in Nice. Onboard your car rental, for sure, you will never run out of things to do.
Mercedes E-class convertible
German iconic brand, formerly famous for its saloon cars, now we can get lost with its various line – up of E-Class convertible. Like any older Mercedes in this range, E-class remains one of the most interesting lone thanks to its hi-tech gadgets, performing and advanced engines and stylish design. Active Brand Assist, Active Distance Assist Distronice, Remote Parking Assist, these specificities make it easy to drive. Its dynamic body control in the suspension allows you to choose within 3 adjustment options: comfort, sport or sport +. It has "THIS" little thing that makes you deeply in love at first glance; tempted to get in and savor the airy ambiance in this sporty and roomy two – doors Mercedes Coupé. Ideal for a long drive or city tour in Nice, Mercedes E-class convertible brings to its driver and passenger full satisfaction along the ride. Now live your luxury dream and tour Nice with your Mercedes E-class convertible.
Mercedes S-class
Technology grows in leaps and bounds, and Mercedes Benz turned it into their advantage. Adapting today's car to people's need, meeting their expectancy in terms of design, performance, and comfort, this is what the brand is trying to do every single day. Goal is reached with this innovative Mercedes S-class Sedan. Integrated technology gives more than comfort onboard this luxury sporty car. The exterior as well as the interior is beautifully shaped and designed with class, but above all, it offers a wellness. Imagine you can control inside climate, seat heating and even a massage program is offered. Two – doors car, new twin-turbocharged 4.0liters V8, your car rental pumps your adrenaline as it goes from zero to 60mph in 4 seconds; worth trying for car spotters and speed lovers. Fear not, your car ride in Nice onboard this smart vehicle would be one of the best during your holidays.
Mercedes C-class Cabriolet
Nothing is more exciting than spending holidays in this trendy city of Nice onboard a luxury and unfashionable Mercedes car rental. Yes, a Mercedes car; but not any kind of Mercedes, please go for a Mercedes C-class Cabriolet. Roofless, roomy cockpit, comfortable leather seat, advanced technology that allows you to keep tuned with the world, this car is ideal to enjoy a luxury vacation. Breathe Nice fresh air, feel the terrific ride with this 4-Matic wheel drive. To feel your adrenaline rush, rent a Mercedes C-class Cabriolet Sport or AMS lines to benefit from the AIRMATIC Dynamic Handling Package. Smart car as it is, this range of Mercedes brings comfort even at your high speed; you cannot even notice gear changes. Amazing and worth trying! The high tech allows you to be aware of your car state such as left fuel level, tyre pressure, brake and so on. Safety and security are forthcoming.
Add species to your stay and get a jetta onboard a Mercedes rental in Nice from GP Luxury Car Hire. We have a wide range of line – ups at your disposal. In case you plan a visit in Cannes or Milan, visit our dedicated page, for sure, you will find you piece of jewel.